Share 3D CAD Data Models in Microsoft Excel
Simplify product communications by using Microsoft® Excel®. Using XVL, interactive models and associated data (including assembly work instructions) can easily be embedded into Microsoft Excel spreadsheets and distributed for FREE to any stakeholder or even customers.
What kind of product does your company produce? Machinery, devices, vehicles, airplanes, …? Regardless, you are probably all too familiar with the problems of sharing product data downstream from product development. Many downstream departments can benefit from the 3D data, but it can challenging to unlock the design information from the 3D CAD system.
I realize there are probably two camps of people who might be reading this post: Those involved with product development and everyone else. This blog post is for both.
Product Development: Are you constantly responding to requests for information locked away in your CAD system? How much time could you save if these other users could access needed data on their own? And, consider how empowered these same people would be to create higher quality results and do it faster with their own direct access to product data.
Everyone Else: This is a big group that stretches from manufacturing to service to even customers. How much better could you perform your job with easy access to accurate models for planning, validation and documentation purposes?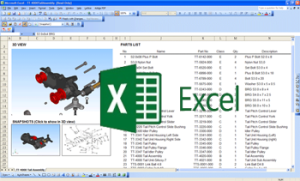 At Lattice Technology, we think publishing interactive documents into Microsoft Excel serves both camps. So, we created Lattice3D Reporter. Our customers like that we support Microsoft Excel for these reasons:
Most people already have Excel on their desktop.
Most people already know how to use Excel.
Our plug-in for using the enhanced Microsoft Excel spreadsheets is FREE and can be downloaded from our website.
Use Cases for Embedding Interactive 3D CAD Models into Microsoft Excel Spreadsheets
Excel is ubiquitous. People have Excel and they understand its user interface. Consider all of the people who require or could benefit from having access to date from a 3D model in Excel … and for FREE. Here are some possible USE CASES:
Suppliers: Obtain quotes from suppliers without sharing your native CAD data.
Design Reviews: Easily engage anyone to get feedback to improve your designs.
Tech Pubs: Give them the power they need to create illustrations and eliminate the burden on your development team.
Manufacturing: Enable your manufacturing planners to easily access real part geometry and related information. This information can be used for planning and validating the manufacturing process, and can even include jigs and fixtures. Also, assembly work instructions can be created and deployed to the shop floor.
Service: Service is similar to manufacturing. Service procedures can be planned, validated and documented, including step-by-step service instructions linked to the interactive model.
Customers: The Excel spreadsheet could be part of the documentation package provided to the customer. And the interactive documents could be used in the sales process.
Quoting: You receive 3D model data in the native CAD format, possibly a CAD system or version that you do not have at your company. With our converters, essentially any CAD format can be used. The quoting person does not need the native CAD to create the Excel spreadsheet with the product data. Then, this same spreadsheet can be shared with other stakeholders.
What is Unique about Lattice3D Reporter using Microsoft Excel?
Complete Product Assemblies in a Single Spreadsheet: Even products with part counts in the thousands can be embedded.
Performance: XVL reduces model sizes to about 1/100 of their original size, enabling those with modestly configured PCs and laptops to access and use extremely large models.
Linked Information: Part geometry can be linked to processes (for example, steps for assembly or service) and part lists.
Shareable for Free: The Microsoft Excel spreadsheet can be accessed by anyone for FREE. In addition, the same information can be published to a 3D PDF. Other sharing options are also available, click here for details.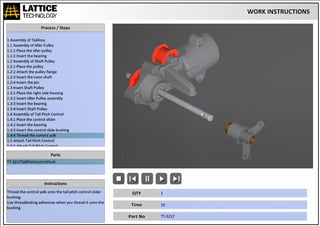 OVERVIEW of Lattice3D Reporter for Microsoft Excel
Here are just a few of the features available when using XVL-enabled models from within Microsoft Excel:
Add interactive 3D models to your worksheets
Add 2D snapshots that are cross-linked to the 3D models
Add interactive parts lists, annotation lists, process lists and more
View, measure and interrogate 3D data
Play animations
Create interactive 2D and 3D documents such as parts catalogs, work instructions, service manuals,
Publish Microsoft Excel spreadsheets and 3D PDFs
Steps for Creating an Interactive Microsoft Excel Spreadsheet
Here are the steps to create an interactive 3D spreadsheet from any 3D CAD model - no CAD license or experience required:
Convert your 3D CAD model to XVL using XVL Converter. This will step will include capturing the assembly structure and PMI/GD&T.
Optional: Add additional information such as linked parts lists and work instructions with XVL Studio.
Publish the XVL using Lattice3D Reporter Publisher.
BONUS: Create an Interactive 3D PDF
Now that you have created the spreadsheet with a 3D interactive model embedded, you can save the same information into a 3D PDF.
3D PDF is a hidden gem. The standard Adobe PDF reader you already have installed on your computer can display interactive 3D models. And Lattice3D Reporter can create these 3D PDFs. (NOTE: Publishing 3D PDFs requires Adobe Acrobat Standard or Pro, purchased separately from Adobe).
Click here for a short video of a 3D PDF created with Lattice3D Reporter.
With 3D PDF, all of the standard annotation features are available for capturing feedback. And an added advantage for 3D PDF is that the model can be viewed on any device (tablets or even a phone) that supports the standard Adobe PDF reader.
Automation
The process for creating 3D PDFs or Excel spreadsheets can be automated with templates. This makes it very easy to integrate with existing ERP, PLM or other IT infrastructure processes.
Access for All
Using Lattice3D Reporter, it is easy and simple to incorporate rich, interactive 3D data into Microsoft Excel spreadsheets or 3D PDFs with bi-directional associativity. These documents can stand on their own or as part of a standard documentation package.
Regardless of which option you choose to distribute your models (Microsoft Excel or 3D PDF), you will provide your stakeholders with unprecedented easy access and clarity.
Watch the webinar here.
Try it for yourself:
All brand or product names are trademarks of their respective owners.