3D PDF – Easily Share 3D CAD Models using 3D PDF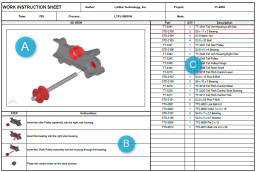 Get more value from your 3D data by effectively sharing complex engineering data inside and outside your company through Interactive 3D work instructions. Your 3D design data has many uses outside of engineering, allowing you to:
Refine your design for better manufacturability
Plan your assembly process
Train the shop floor
Document field service procedures
Create spare parts ordering capabilities for customers
Provide customer documentation
…the list goes on.
Properly used, an organization can squeeze incredible value from the original CAD design model. Next, the obvious question is… what's the best way to share this data with all of the different types of stakeholders? For each of the possible use models, the types of users involved can vary widely in such things as their technical abilities, their devices and let's not forget about licensing and training costs for specialized solutions. Also, some people may be deskbound, using an application optimized for a desktop or laptop; still others may need a mobile solution with phone or tablet access.
So now an organization is faced with a long list of use cases, with different type of stakeholders, needing different ways to access. The problem above can be boiled down into the following:
Ease-of-use and accessibility. How do people consume this 3D data, and how difficult is it?
Cost. How much are the licenses?
Installation. Can you bring a new application into your current IT environment?
This is where it gets complicated – but it doesn't have to. That's where 3D PDF comes in.
3D PDF
Everyone knows about the ubiquitous PDF and how effective it is for sharing documents. In fact, everyone has the Adobe PDF reader. Okay, maybe I shouldn't say everyone, but I think you would be hard pressed to find someone who doesn't have it…in fact; it is probably an updated version – since updates from Adobe seem to happen almost weekly.
What you may not know is that the standard Adobe PDF Reader (that everyone has) can display interactive 3D data…and, in fact, it can contain other related information as well – think of it as a container – more on that later.
3D PDF solves the problems identified above:
It is easy to use
It is free
It is already on your computer, and there are apps for tablets
This means that anyone inside or outside of your company can easily access and use your valuable 3D engineering data via their desktop or mobile device –without additional licensing costs.
3D PDF COMPONETS
Sharing of your interactive 3D model is only the beginning. As I mentioned earlier, the 3D PDF is a container. Adobe designed a tremendous amount of flexibility into this powerful file format. Other data structures that might be included could be any that have a relationship to the CAD assembly model data—for instance:
Part Lists
Procedures for completing a task, also known as work instructions or tasks
Snapshots and animations of the steps of an assembly process or a service procedure
USE 3D PDF STANDALONE OR PART OF YOUR PLM/PDM PROCESSES
It doesn't matter if you are a small boutique engineering company or a Fortune 100 manufacturing company, using 3D PDF for sharing interactive 3D models with related information (including PMI) is probably the best way to share with any stakeholder. If you are a big company, you will most certainly have a PLM or PDM system, the 3D PDF can easily be tucked in with all the rest of your files. If you are a small operation, the 3D PDF can become a mini PDM system using its container capabilities to hold all the things mentioned in this post as well as the original CAD data format and neutral formats like IGES and STEP.
LATTICE TECHNOLOGY FOR 3D PDF GENERATION
There are many 3D PDF generation solutions on the market today -- most simply convert CAD geometry– that's all. The more robust solutions usually require scripting and programming.
At Lattice Technology, we have created a solution so that a person without CAD experience and without programming or scripting can easily and quickly create these powerful 3D PDFs with extended information. We use a template approach, which allows you to establish standards for your 3D PDFs. Using a template, the author can quickly add:
3D geometry (from any CAD system – we are CAD agnostic)
An entire workflow designed for performing a set of tasks/procedures (also known as assembly or manufacturing work instructions) and attach these tasks to interactive part geometry
Specific views for any of the tasks
Animations that are created by simply arranging the part order with a drag and drop interface
Experience how easy it is to create these data rich 3D PDFs.