3-Steps for Using Any 3D CAD for Downstream Processes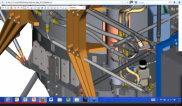 Today we announced upgrades to our 3-Step Solution Set (AUTHOR, PUBLISH, CONSUME) for moving geometry from any CAD system into XVL -- where it can be leveraged across the extended enterprise.
Our tools do not require CAD expertise to use. A person with basic technical skills can AUTHOR new information into the model, such as work instructions, animations, PMI and much more.
Complex operations can also be done, such as importing tooling and fixture geometry in order to model manufacturing or service processes.
After the enhanced 3D model has been AUTHORED, it is PUBLISHED in order to be made available to various free CONSUMPTION options.

CONSUMPTION of the enhanced model can be done in the following ways -- all are FREE -- with interactive 3D:
** Interactive 3D web pages
** Mobile iOS devices, such as the Apple iPad
** Microsoft Excel spreadsheets
** XVL Player for Windows.

Check out the full release here: