Design for Manufacturing — Sharing of design data is the first step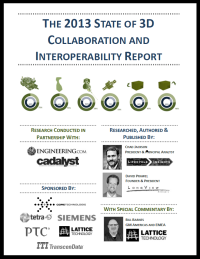 Improving Manufacturability
Design Data Sharing
When considering manufacturability during product design, engineers strive for products to be manufactured faster, easier, less expensively and with higher quality.
The first step in the design for manufacturability process is to share the design data with manufacturing. Involving the right stakeholders in the process will ensure the best possible outcome.
Of course, companies that design products with any level of complexity are using 3D CAD. Collaboration directly from 3D is challenging due to the complexity and proprietary nature of 3D CAD formats.
---
Industry Report Available: 2013 Collaboration and Interoperability
Given this challenge, are today's companies successfully working with manufacturing to leverage 3D design data outside of engineering? Chad Jackson of Lifecycle Insights and David Prawl of LongView Advisors recently took on this question by surveying hundreds of companies who do product development. They asked participants about their use of 3D along the critical path from engineering to manufacturing. Their findings are in the comprehensive, free report "The 2013 State of 3D Collaboration and Interoperability Report".
Critical Path
The complete report features 10 infographics. Each infographic contains insightful statistics and a full page of commentary from the publishers and survey participants. In addition, Lattice Technology supplies expert opinion on the use of 3D across the entire product lifecycle--from design to manufacturing to technical documentation to training to service. Since 3D geometry has tremendous value to all of these product lifecycle segments, we wondered what was holding companies back from leveraging it. This report provides the answers, along with suggestions for implementing solutions.
Landscape of 3D-based Initiatives
Below is the first section of the report: "The Landscape of 3D-Based Initiatives". This section explores three initiatives: Formal Data Exchange, Use of 3D Off the Critical Path, and Model-based Deliverables.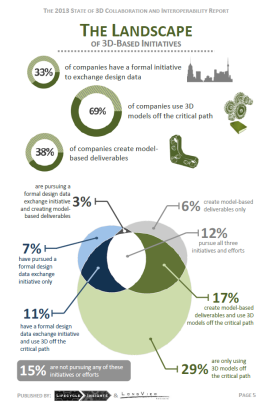 For us, remembering who gets what format and sending them as required is our only good option. Even within our primary CAD application, several vendors and customers don't stay updated, and since there is no retroactive version support, it causes headaches at times.
-Byron Morgan, Design Engineer, Hunter Douglas, Consumer Products, United States
I have to say, I'm surprised at how many companies are using 3D models outside of the engineering-to-manufacturing critical path. It's good that so many organizations are getting extended value out of something that engineering is creating anyway. Also, the findings imply there is a lot of synergy between these efforts, with 49% of total respondents pursuing at least two efforts or initiatives.
-Chad Jackson, Industry Analyst, Lifecycle Insights
The study presents three initiatives: Formal Data Exchange, Use of 3D Off the Critical Path, and Model-based Deliverables. Given the cost of producing 3D models and the benefits to other stakeholders, it is surprising that only 69% use models off the critical path. Leveraging the 3D model across the extended enterprise can have dramatic effects on time-to-market, quality, creating better designs and ultimately increasing profitability.
Formal Exchange: We enable formal and informal. For formal, processes can be automated and integrated with other systems. For informal, our ultra-lightweight models can also be emailed.
Expand the Critical Path: We define the critical path more broadly, which includes other stakeholders such as documentation, training, and service. Using XVL, the expanded definition of a product may include integrated work instructions, PMI, tooling and human interaction.
Model-based Deliverables: In the future, we believe all documentation will be 3D-based. In the meantime, in addition to robust 3D interactive documentation, Lattice Technology supports comprehensive 2D technical illustrations derived directly from the 3D models.
-Bill Barnes, GM Americas and EMEA, Lattice Technology
We make bad engineering decisions when we pretend that there are no interoperability problems. We have established a Center of Excellence (CoE) that has developed a definition of "core" data quality, designated a suite of tools for translation, and identified subject matter experts (SMEs). We feel this approach has provided a measure of success.
-Matthew Wickham, Design Data Exchange Coordinator, Delphi, Automotive Supplier, United States
These results, when compared with past years of our report, show a continuously increasing trend toward more extensive use of 3D outside traditional design and manufacturing. This is really great news for many reasons. The largest benefit goes to those companies who are exercising the digital data outside the beaten path, as they are finding more ways to leverage their assets and innovate.
-Dave Prawel, Founder and President, Longview Advisors