Collaboration, The Key to Reducing Time To Market
Collaboration drives ultra-fast order turnaround and reduces man-power by 90% for die and mold company by using XVL from Lattice Technology.
Enterprise Information Portal
In order to provide ultra-fast turnaround, Tsubamex (manufacturer of tooling and molds in Japan) implemented a collaborative production process that includes all functional areas in the company — from sales to finishing. At the center of the collaboration is the Enterprise Information Portal (EIP) containing all of the information about a customer's order and the parts to be manufactured. The EIP is powered by Lattice Technology's XVL-based solutions, allowing anyone to easily access an accurate 3D model of the parts and the associated data — using even light-weight devices like Apple® iPads®. Eighty percent of their 120 employees use the portal to complete their job, creating an efficient collaboration environment for ensuring a quality product is produced efficiently and delivered with industry-leading speed.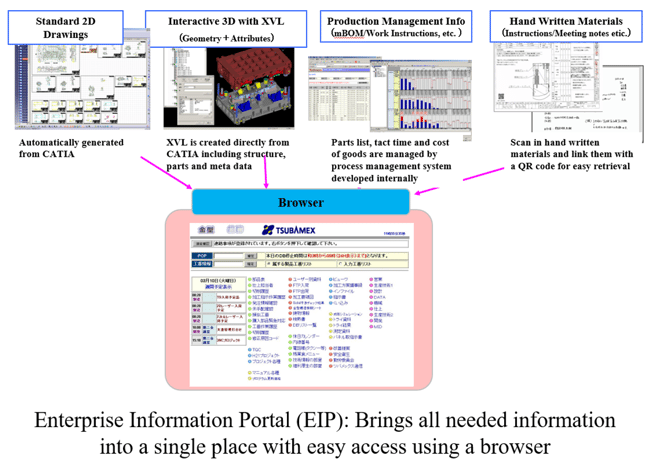 Company Overview
Located in Niigata City, Japan, TSUBAMEX Co., Ltd. designs and manufactures dies and molds for industries such as vehicle manufacturing, home appliances, farm machinery and architecture. They specialize in rapidly turning around custom designs for their manufacturing customers.
Business Challenges
Dramatically reduce turnaround time from order to delivery
Maintain or exceed company quality standards
Decision to Address
Tsubamex determined that the most significant problem for delivering orders faster was better teamwork. Too many questions from the shop floor to the design team caused manufacturing delays. The amount of questions indicated that the information the shop floor workers were receiving wasn't clear enough. Not only did all of these questions slow down the entire process, errors resulted because the instructions were not clearly understood. Additional errors were caused because the operator thought he understood the data — when in fact he didn't.
Solution
Create an enterprise-wide portal that contains all of the information for a customer's order that is accessible by all stakeholders in an easy-to-use format with a variety of devices include Apple ® iPads ®.
Click here to read the entire case study.