Work Concurrently: Engineering & Manufacturing
This blog post is about considerations for how to speed the completion of the "complete product" by enabling concurrent processes downstream from engineering—namely documentation. A previous blog post regarding how Honda uses Lattice Technology solutions is referenced.
Complete Product
So first, a definition…what is the "complete product"? The complete product includes the manufactured product, the internal processes to manufacture the product, the documentation that a customer expects and the documentation that the company needs to sell and service the product. Here is a possible list:
Assembly Planning (fixtures, machines, jigs, etc.)
Datasheets (and other marketing material)
Owner's Manual
Service Manual
Service Procedures and Training
Spare Parts Ordering
Training Material for Assembly Workers
Work instructions for Assembly on the Shop Floor
Common Denominator
What is common among all of the above items? The answer is … the completed, released to manufacturing product design. Obviously, some work can start earlier. However, this work can't be completed until the product is baked. By starting before the release, you will compact your product release cycle, but there will be rework. The only question is: how much?
What's the Solution?
Develop downstream processes that can work with imperfect data, detect changes when they occur and enable users to adjust to the changes instead of starting over.
For instance, in the Lattice environment the MCAD model is imported, yet it retains associativity to the original model. Downstream work can begin before the product is complete. Two keys are critical to minimizing rework:
Change notification
Control of applying the updates
Sure, the more geometry that is changed, the more additional work will have to be performed – however, in the Lattice environment you are guided through the changes. Therefore, you are able to easily focus on only the changes.
Example: The Owner's Manual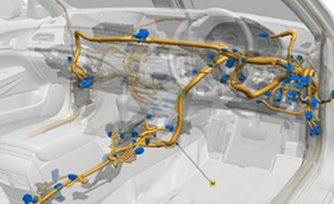 Probably the most important customer facing document is the Owner's Manual, also known as the User Guide for some products. Depending on the product, the Owner's Manual might be brief, or it could easily be hundreds of pages for something as complex as an MRI machine or heavy equipment. For this example, we will use a complex example like an automobile.
** Photographs **
A picture tells a thousand words, so an automobile's owner's manual is usually loaded with them...maybe multiple per page. Photos require the finished product, which creates a delay. In addition, photo shoots are time-consuming and costly.
** Drawn Illustrations **
Even if the product is available to photograph, many illustrations usually need to be created…for example exploded views. Creating drawings from scratch takes a lot of human time, and they must be accurate, or you will have frustrated customers. The good news is that they can be started before the product is completed, but then there is the rework for engineering changes.
** Direct Image Generation from CAD **
There is a third option. Directly generate photo realistic images and drawings directly from the CAD model. For example, consider an exploded view. Defining the assembly order is as simple as dragging and dropping of parts. Annotations and callouts can easily be added. To replace photo shoots, images can be created directly from the CAD model, which is fast and 100% accurate.
Since this work can begin before product release, changes will undoubtedly occur. However, there is an automated path for resolution. When an update occurs, any change in geometry is highlighted, such as additional new parts and deleted parts. The author can easily recognize the changes and adjust their drawings.
"…only 6 days to generate a 3,000 part catalog, compared to months of photo shoots…… and cheaper, no photos to shoot, update or manage, 3D parts update automatically when CAD changes."
– Machine Tool Manufacturer
Honda Example: Owner's Manual - Service Manual
Problem: The company's Customer Service Operation has the task of creating owner's manuals, parts catalogs, and service manuals for the vehicle structures, chassis, bodies and wire harnesses, totaling 6 types of manuals for each vehicle. These then have to be translated and delivered worldwide across Japan, North America, South America, Europe, China and Asia.
Plan: As part of the company's ongoing efforts to continuously improve processes, cut costs and enhance productivity, Honda realized in 2008 that the conventional processes used for creation of illustrations for its various documents were not aligned with the rest of the company's streamlined workflow processes. At this point the company started to research automated solutions to address this.
Solution: The Customer Service Operation uses Lattice Technology Solutions to create images direct from the 3D data.
For owner's manuals, Honda chose to use shaded images that would reproduce well in printed documents instead of the conventional line art images used previously.
For service manuals and documentation the same method of shaded images was used but with additional color intensity used for the specific part or point being handled. Honda service personnel found that this considerably raised understanding of the repair process, especially compared to the conventional line art which failed to highlight the parts in question.
Results: The company found that about 60-70% of the required illustrations and images could be created automatically or semi-automatically using the Lattice Technology Solutions.
Using shaded images increased comprehension and understanding, resulting in fewer service errors and less customer support queries about operating the vehicles.
What's the Impact to Your Company?
The most important thing is the time to "complete product". All of the downstream processes can start earlier with the knowledge that there is a method to resolve changes when they occur.
There is a secondary benefit. The benefit of engaging downstream stakeholders earlier will encourage collaboration that could lead to a better design. For example, by planning your service processes earlier, you may discover opportunities to improve your design.
Next Step
With Lattice3D Studio 13.1, we have introduced additional features that aid concurrent work processes.
If you would like to see how this could benefit your workflow, please contact us. We will be happy to discuss this topic in more detail.