Virtually Plan & Simulate Assembly Processes - New Features
New XVL Studio Updates Increase

Capabilities

for Manufacturing Engineers
XVL Studio is a powerful tool for manufacturers who need to plan and simulate complex assembly processes. With the software's ability to work with native 3D CAD data, manufacturers can easily drag and drop parts from their engineering bill of materials (BOM) and build the assembly process tree. This streamlines the planning process and ensures accuracy since the data is coming directly from the 3D CAD system.
New features have been added to XVL Studio which increase its ability to detect clashes and measure tolerances with CAD-level accuracy. This ensures that potential issues are identified and addressed before the assembly process begins, saving time and preventing costly mistakes.
A key attribute to XVL Studio is its lightweight structure, which makes it easy to move the entire product into virtual reality. This provides a visual immersion for validating assembly processes and allows manufacturers to make changes and adjustments in real-time.
Overall, XVL Studio is an essential tool for manufacturers who need to plan and simulate complex assembly processes. Its ability to work with native 3D CAD data, detect clashes and measure tolerances with CAD-level accuracy, and provide visual immersion in virtual reality make it an indispensable asset for any manufacturing operation.
New Features
Dynamic Collision Check: The ability to detect a collision between two parts while one is moving and in its final location has been a longstanding feature. This enhancement is to be able to add the view of the collision to annotation views. For instance, while virtually moving a part into position, will it clash with any other parts?
Workability Check: New tools have been added for a more complete assembly process simulation.
Automatic Path Finder: This also has been a fundamental feature from early on. The feature has been enhanced to include trace lines to show how the part travels into its final location.
Would Your Company Benefit from Virtually Planning and Simulating Your Manufacturing Line?
Does Your Company Manufacture Complex Products?
By complex, we mean products that:
Have hundreds of parts or maybe thousands?

Require complex manual operations to assemble?

Require the use of special tools to assemble?

Have many options and/or variations?

Are built-to-order?

Partially built by robots and part by humans?
You get the idea; complex products are not simple products to assemble. They require extensive planning and then detailed instructions for the assembly floor.
Common Challenges Manufacturers
Assembly planning and validation often starts after the design is complete, delaying the discovery of assembly issues.

Assembly validation often requires physical prototypes that are slow and expensive to produce.

Digital assembly validation solutions often cannot handle large models due to hardware and software limitations.
Design changes usually require slow and costly revalidation of previous results.
How XVL Studio responds to these challenges are in the conclusion of this article.
How Do You Plan Assembly Operations Today?
Are you using?
2D drawings?

Photos?

Prototypes?
How Do You Test your Process Before Building the Manufacturing Line?
Using prototype parts?

Desk check?

Hope for the best?
What If?
… the complete planning could be performed in 3D using the CAD parts directly from the CAD system? And this assembly plan could be used to simulate and validate the assembly plan?
It can! Using XVL Studio.
Would that:
Save time?

Find errors?

Increase quality?

Increate throughput?
By virtually validating your entire assembly process, we think all the above can be accomplished. And, of course, the sooner you find an error, the less it impacts production and additional costs.
What's more, it uses your 3D CAD model data: no redrawing, no pictures, no screenshots, and no prototypes.
And one more thing, human models and tooling can be used in the simulation.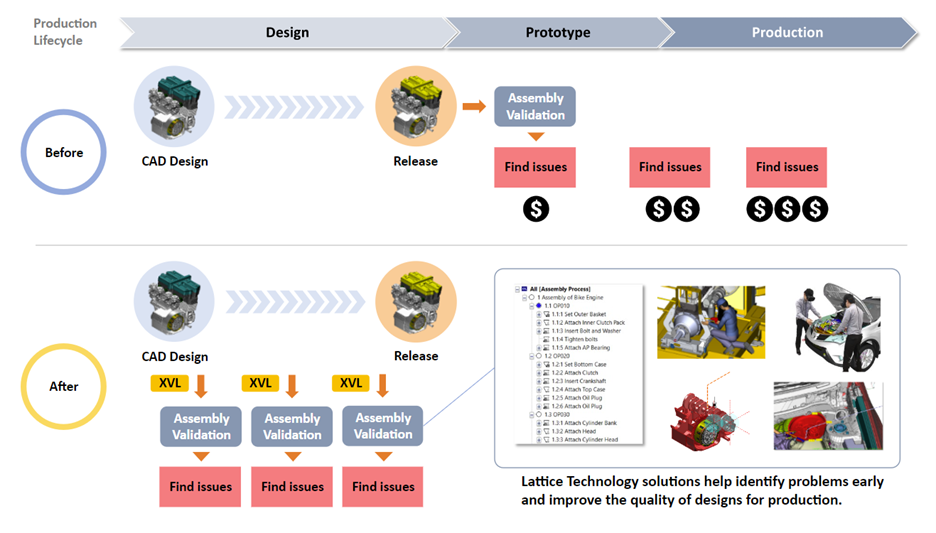 Virtually Plan Your Assembly Process. Part by part, drag and drop, using the engineering BOM (eBOM) from your 3D CAD system. From the first part of the assembly to the last one.
You are building the process tree for manufacturing the complete product.
An optional step is to build the manufacturing BOM, which is done in the same way.
Virtually Validate Your Assembly Process

Now that you have defined the entire assembly process, virtually. That same data is available for simulation.
When you define the assembly process, you started with the first part, and then one by one, all of the other parts are added in their assembly order. And the order can easily be modified to correct problems or optimize. And because the XVL representation is ultralightweight, your entire product assembly can be virtually modeled.
The XVL model is lightweight but retains CAD-level accuracy so that you can accomplish real work. For example, clashes can be detected accurately when validating the assembly, even tolerances measured. Since XVL is ultra-lightweight, excellent performance can be achieved, even when working with products that has thousands of parts. This is how Toyota can plan and validate the assembly of an entire automobile using XVL.
Step Into the Virtual World While you are Validating
Another advantage of XVL is moving your entire product into Virtual Reality (VR) without having to change the data in any way. Most VR solutions require dumbing down of the data, not with XVL. XVL Studio supports various Virtual Reality solutions.
Conclusion
Virtual planning and simulation of manufacturing can be a tremendous benefit if your company manufactures complex products. As stated earlier, the benefits your company should experience include the following:
Manufacturing assembly planning: Since you are using the actual CAD data, all of the data is at your fingertips. And the data is accurate so that real planning can be performed. Part by part.

There are many other ways you will save time, but they are outside the scope of planning and validating, but I will mention them: creating the work instructions for your shop floor and training on the shop floor…but these are the subject of another article.

And also handling ECOs, see Increased Throughput below.
By virtually simulating your assembly plan with accurate data, you will find the errors that may not have been uncovered until you started building the product…a costly time to find them.
By virtually simulating the assembly, you will find the errors and uncover where you could have problems.
Start earlier. Manufacturing planning can start earlier because you don't have to wait on the finished product.
Not only will you find the errors…you will be able to optimize your assembly process. "What if" questions are easily answered virtually. Put on your VR headset; now, you can really explore and optimize.

When there is a design change before release, the difference is easy to identify so that the assembly plans can be quickly adjusted.

The above is even more critical for Engineering Change Orders (ECOs), which can shut down production.
You may ask yourself, why not do this in the CAD system? Perhaps some can but here are the problems:
CAD systems are built for design, not planning. And licenses are costly and the training required to operate these systems is significant.
CAD files are enormous. Can you bring all of the files for your product into a single CAD session? If you are manufacturing complex products, it isn't very likely.
Would you like to learn more about how XVL can benefit your company?