Enhancements for Manufacturing Planning and Validation
This release included extensive updates for creating and managing the manufacturing Bill of Materials (mBOM) and manufacturing process planning.
Lattice Technology, Inc., a leading software solution provider for leveraging 3D CAD data from virtually any CAD supplier, today announced new versions of multiple products that will increase the productivity of those charged with manufacturing planning.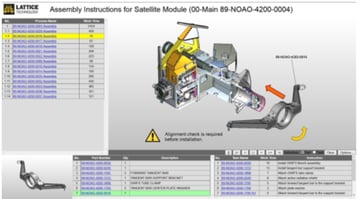 Lattice Technology delivers XVL-based software solutions that enable manufacturing companies to repurpose 3D CAD data in order to be utilized by functions downstream from product development. XVL, used with or without PLM/PDM applications, can be the single source of truth and can serve as a company's product data backbone. Common uses include Assembly Work Instructions, Assembly Validation, Design Reviews, Procedural Service Instructions, and Validation of Manufacturing Processes.
This release provided new features for the manufacturing engineer who is in charge of manufacturing planning and validation. By using XVL, the manufacturing engineer can easily leverage all of the product design data including the 3D CAD models with easy-to-use authoring tools. Validation is possible because XVL maintains CAD-level accuracy. Moreover, critical to the manufacturing planner, even models with thousands of parts and file sizes stretching into multiple gigabytes can be included in a single instance (XVL file sizes are typically 1/100th the size of the CAD files so even modestly configured laptops can accommodate extremely large models). Using XVL Studio, the manufacturing engineer can plan the entire assembly process, step by step. Then the planner can create the manufacturing Bill of Materials (mBOM) from the planned assembly process in manufacturing, which enables an alternative workflow that some users find more logical. The planner can also create a manufacturing instruction that can be easily distributed to and interpreted by employees.
"This release gives the manufacturing engineer unprecedented power and flexibility for defining and validating the manufacturing process by directly leveraging the native 3D CAD data from product development," said Erik Freeman, Lattice Technology Sales Manager. "For instance, with this release, the manufacturing engineer is given new capabilities for defining the manufacturing process tree and then can derive the mBOM directly from the process tree."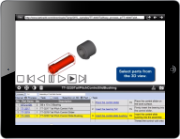 Included with this release are enhancements to three products: 1) Lattice3D Reporter (the free Microsoft® Excel® plugin) for publishing interactive 3D with work instructions in Excel spreadsheets, 2) XVL Studio (XVL authoring environment), and 3) XVL Converter (with support for the latest versions of Catia, Inventor, JT, NX, Parasolid, Solid Edge and SOLIDWORKS).