Heavy Equipment Manufacturer Adopts XVL to Streamline
XVL used as the single-point-of-truth for the enterprise to dramatically shorten time-to-market
Summary
KCM Corporation leverages lightweight XVL to improve business processes from product design to customer support.
The Challenge
KCM Corporation is a manufacturer of construction machinery such as wheel loaders.
In the mid-2000s, the market for construction machinery was challenging. KCM was forced to shorten time-to-market, reduce costs and focus on improving customer satisfaction.
KCM realized that such challenges could not be addressed using traditional development methods. It decided to adopt 3D design and implement concurrent development with the goal of shortening time-to-market by about 30-50%.
In the design department, use of 3D data proceeded very rapidly with the introduction of 3D CAD. However, KCM had a hard time extending the use of 3D data downstream from design.
The Solution
In order to break through the difficult problem, KCM turned to XVL.
XVL is a unique 3D format. After converting from the original CAD system, file sizes are typically 1% of their original size, while maintaining CAD-level accuracy. For KCM, this meant a 2.5GB file in 3D CAD could be compressed to 68.5MB in XVL, as shown in Figure 1 — yes, Gigabytes to Megabytes. This was crucial for enabling sharing and collaboration throughout the organization.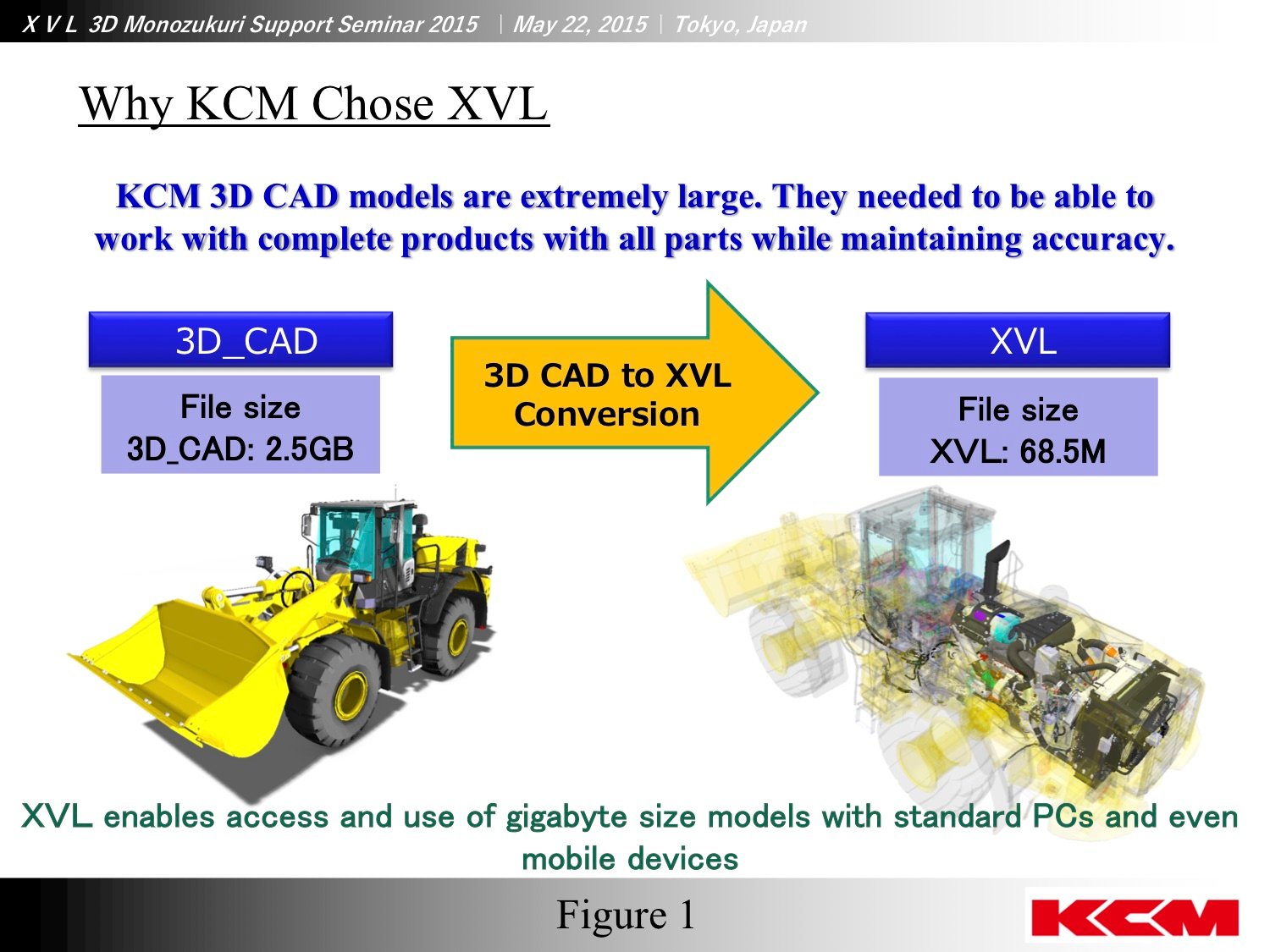 Click here to read the rest of case study where Mr. Kanemoto of KCM outlined the results for the following:
Design Department

Production Department

Product Support Department

Sales Planning Department

Global Collaboration
Plus, discover the challenge and expectation regarding the future utilization of 3D XVL data from Mr. Kanemoto and his team.